It's that time of the year again! Everyone is ready to make their bets and pick their favorite horses. However, you may not be able to make it to the actual Kentucky Derby. Therefore, a viewing party is in order during this weekend. There are so many ideas for this party. So, Wedding and Party Network has a few tips and ideas to host your own viewing party right in your own home.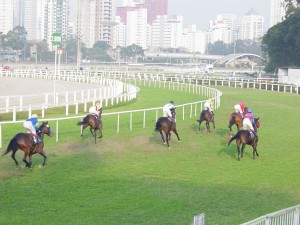 Lets Go To The Races – For this party, it's definitely about capturing the essence of the race itself. You do this by offering all things that you find at the races through your party decorations. Start out with picking colors for your party. The best colors to choose are pastels. Pick a few and even take a look at some derby photos to get an idea of what colors to go with.
Next up, pick out all the accents like the table cloths, choose a white table-cloth and then a colored table runner to put over. Also, since this is more of an elegant affair, now may be the time to break out the china. Use vintage pieces for your serving platters and mason jars for the glasses as well.
Next up, set up the food table. It would even be cute if you got some of the plastic mats that look like lawn and placed it on top of the table. This would give the feel of the derby and you could even add different race features on top of the table, like a horse track. On top of the table, make a trip to your local florist to choose a great event centerpiece for the table and even little arrangements to display around the party. Even if you find vintage horse items, they would be extremely great to place around the party.
You can either go with red roses, baby's breath or even have your florist make the garland of roses that they place around the horse's neck after they win. Lets not forget about the hats as well. Place those wherever you find appropriate. The best way to find inspiration for this party is to take a look at photos from past Kentucky Derby's and take a look at what's going on in them. What accents and details are featured in the photos?
Again, take inspiration in what type of food you would actually find at the Kentucky Derby. Create tea sandwiches, little ramekins of mac & cheese, cheese trays, meat trays, toasted pecans, brie delight, andouille sausage, grilled fish dishes and just about anything you would like to serve. Also, meet with your local caterer, they'll have lots of ideas for this occasion. For dessert, create Bourbon balls, pecan pie, pumpkin cheesecake and a hazelnut dessert. Also, don't forget about the mint juleps!
The Dress Code – Of course, the most important detail about this party is the dress code. Sun dresses, khakis, polos,  button ups, ties, blazers and of course, big hats are an absolute must for your guests. That is the whole fun of the party. You can even make a contest out of this and give out awards for the most creative hats and outfits.
A Kentucky Derby viewing party is a must for this event. Having everyone dress up, eating delicious food and watching the horse races are all elements of a wonderful time.
This post is brought to you by Houston Caterers.
Not in Houston, TX? No worries, use Wedding and Party Network's handy party planning directory to help you find a caterer near you!